Enable NSW
How do you track 20,000 pieces of medical equipment on a single inventory platform? That's what this Australian agency needed to know.
Background
In 2007, EnableNSW was created to improve equipment support services for people with disabilities in New South Wales, Australia. Since then, EnableNSW has served as a central hub for the distribution of equipment and supplies to New South Wales residents with short- or long-term health needs, with the goal of helping people safely manage health conditions in their homes. Annually, EnableNSW receives referrals from more than 3,500 prescribers and provides more than 20,000 pieces of equipment or supplies to residents of Australia's most populous state.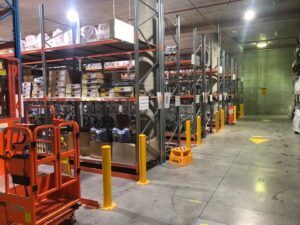 The Problem
Tracking requests, inventory and maintenance records for more than 20,000 pieces of equipment is no simple task. For years, EnableNSW operated on a mostly manual system, with a dedicated team of professionals taking requests via fax and phone or with outdated electronic systems that only served one piece of their operations—separate portals for different types of equipment, for example. It often took months for new staff members to get up to speed on the various processes, and even then they still led to inefficiencies or difficulty keeping track of each piece of equipment. As demand increased, patients were placed on waiting lists or new equipment was ordered—even when it might not have been needed.
"What we realized is that one of the key things we needed to do was to stop just buying and sending out equipment and never seeing it again," explained Jackie Hiller, the manager of EnableNSW.
The Solution
The team at EnableNSW knew that an investment in technology would simultaneously benefit their customers and create a more efficient operation, but they couldn't find a system they felt met all their needs. They wanted something relatively easy-to-use but also customizable that would allow them to easily update forms and questionnaires used by their customer service team.
EnableNSW turned to Logis, which had helped their colleagues at the New South Wales Health Patient Transport Service greatly improve operations. Working collaboratively, EnableNSW and Logis implemented Logis Inventory, which put their customer service, inventory and maintenance tracking systems on one platform.
A Person-Centered Approach
While it would be easy to just think of what EnableNSW does as moving around pieces of equipment, at its heart are the customers it serves. When a member of the team receives a request, first they enter in a patient's information to see what services they are eligible for; only the pieces of equipment they qualify for will show as available. Then, in the same interface, they can see if the item is in the warehouse and schedule it to be delivered, or, if it's not available, they can quickly order one. Because Logis Inventory interfaces with their financial and accounting software, a purchase order is immediately created.
While it's one system, the software is tailored toward the specific programs and types of equipment. For example, the fields the order-taker needs to fill out for an order for a home ventilator, for example, will be different from those for a patient requiring a wheelchair.
"Our old system was very segmented," Hiller said. "Now, the basics for entering someone in the system are the same, but there are still areas we can customize. We can attach a specific questionnaire to the equipment type to help guide the operator."
The changes have greatly streamlined the intake process, allowing call-takers to focus even more on customer service and quickly resolve any issues or questions that might arise. For example, before implementing the new inventory software, if a request came in for a hospital bed to be delivered to someone's home, and no beds were in the warehouse, a new one might have been ordered—even if it turned out a dozen had been returned but just needed cleaning. Now, they can quickly see that while none are immediately available, they will be shortly, saving money and time.
"It's been a real game-changer for us," said Lisa Seymour, EnableNSW's customer service manager.
A Safer System
Keeping track of thousands of pieces of equipment is hard enough. Keeping track of their maintenance records, recalls and other issues are often too much for most organizations. With their new system, the EnableNSW team finally feels they have a complete picture of the status of each item they deliver to a patient. For the larger pieces that get reused—like beds, wheelchairs, ventilators—they know when routine maintenance or inspection was last performed, when they've been cleaned after being returned, or when there are any issues with specific items or products in general. For more customized items that don't get reused, like prosthetics, EnableNSW can now easily see every patient who needs to be contacted if a part gets recalled.
When repairs are made in the field, they are also tracked in the Logis Inventory system so the EnableNSW team can know if the item has had the same repair multiple times and needs to be replaced, and also whether the replacement item is in the warehouse or needs to be ordered.
The team in the warehouse filling the orders also uses a mobile-friendly version of the software. Each item has a unique barcode that can be easily scanned. The warehouse team members also carry small printers that allow them to print the patient's name and address on stickers and place them on the equipment. The labels also automatically let the technicians know if any configuration is needed prior to delivery.
"We're able to give good customer service to a vulnerable group of people, and at the same time, make sure we're reissuing equipment that we know is clean and is being maintained," Hiller said.
Ready for a Pandemic
When COVID hit, the EnableNSW team quickly moved much of their customer service team to remote work. A few years earlier, that would've caused headaches, delays and communication issues. Instead, patients didn't notice a difference, as staff members easily accessed Logis Inventory and didn't have to worry about paper forms, faxes or other systems that were in place previously. Not only that, but employee engagement scores actually went up, largely because the system made the transition to working from home seamless.
A Clearer Picture with Data
Although the inventory system was tailored to improve the day-to-day processes used to quickly and accurately fill requests for equipment, the data it collects is also giving EnableNSW leadership information they never had before. How often do pieces of equipment need to be replaced? Which types last the longest? They feel the information they're gathering will help them find even more efficiencies and be better positioned to provide the best possible service to the people they help care for.
What the Future Holds
When COVID struck, health officials in Australia and New South Wales, like those throughout the world, immediately began planning for the worst. As they considered the possibility that field hospitals would need to be set up to care for overwhelming numbers of patients, they were anticipating that they might be deploying supplies from central locations to regional warehouses or directly to the field, receiving equipment to be serviced or issued to another location and other complicated logistics activities that would require agility and accountability. Their thoughts turned to Logis Inventory. Fortunately, the pandemic never reached that point in New South Wales, but EnableNSW's experience since implementing the platform has shown the potential to help in other areas.
Schedule a Personalized Demo Today