Logis IDS Software Updates Version 4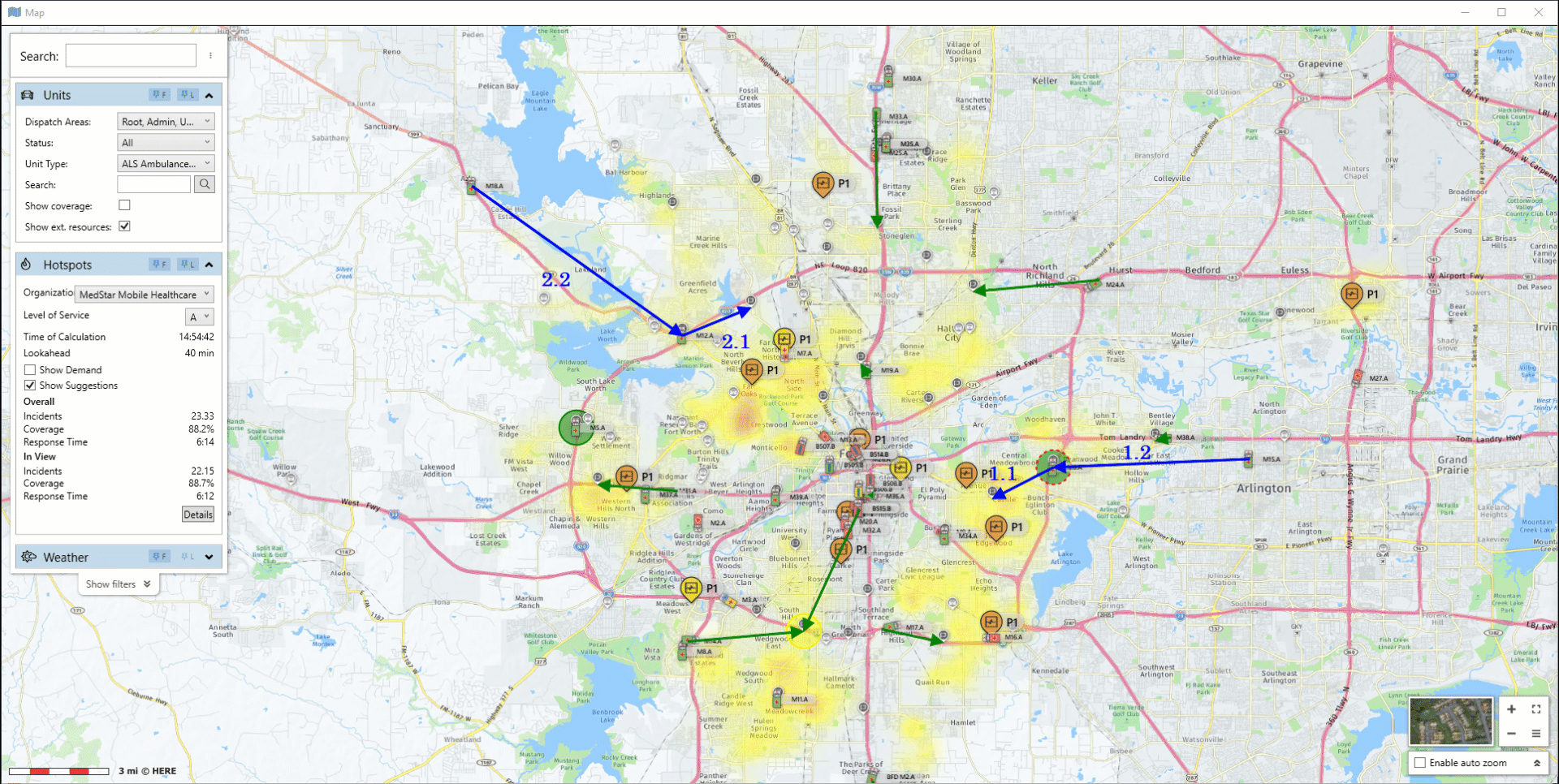 With this update – version 4 – to Logis Intelligent Decision Support (IDS) software we focused on unifying the user interface (UI) to ensure different screens are better aligned in look and feel. As with all our upgrades, we strive to continually evolve Logis Solutions' software, very often incorporating the feedback we hear from our customers to ensure we continue to address the real-world challenges they face every day. I encourage you to watch the video to learn more about the improvements we've made in these updates and see them in action.
UI CHANGES
Menu bar: In these updates you'll see a more unified look and feel to the menu; these follow previous changes made to the Logis call-taking screen. The menu bar icons have changed as well; color changes include orange for dispatch; green for call-taking; and pink for patient care. Users also have the ability to dock the menu bar at the top or bottom of the screen.
Gantt: Changes to the look and feel of the Gantt in this update are primarily minor color changes that follow the palette of the incident screen and dispatching screen. You'll see, too, that by right-clicking on menus you can view different groupings that bring the most important information to the top. Users also have the ability to group similar items into subgroups depending on the action.
Map: Many of the visual changes in version 4 are seen on the map. You'll notice that the menu bar is gone from the top and the ability to filter items is now on the left side of the screen. Users can turn on filters and add each as a layer.  You can set it to always show a filter, meaning that even when you hide filters, the dialogue related to the filters stays present. Or you can choose to show the layer on the map.
Other improvements to the map include the ability to reorder features; when you click "Show filters," you can see all those you've set to be shown. Reordering filters is now easier, too; simply drag and move them as needed.
In this update, we've redesigned all map icons so you can easily see them for incidents, units and labels; zoom in on the map to see, for example, vehicles capable of lights and sirens. You'll also notice new layers, such as hotspot layers that relate to dynamic deployment. Or, through a subscription with our partner Aeries Weather, choose the weather layer to see radar imaging that shows storm cells, fire, lightning strikes, wind, and temperature forecast.
NEW IDS FEATURES: 
Urgent Transfers: Previously, in order to do an urgent transfer in Logis IDS you had to switch emergency workflows but lost the ability to get the benefits of the call-taking workflow. With the introduction of Urgent Transfers, you now have the ability to allow an urgent transfer to interrupt other transfers while staying within the call-taking workflow. This will help call-takers to use the Gantt view to optimize dispatch based on available resources.
Alternate Recommendations: This new feature allows you to view alternate resources that are over- and underqualified for a particular response. Users can see distance, ETA and other criteria for various resources and choose the best option.
Adjust: With this new feature you can add additional responses, such as supervisor resource or other responses to an incident.
Crew Check-In: This new feature builds in safety checks for your crew and allows for the configuration of recurring time-based check-ins with the crew based on the response plan.
Emergency Recommendation Log:  Also known as the "Explain suggestion" feature, this tool is designed to help organizations troubleshoot their own challenges in maximizing efficiency and effectiveness. The log allows you to store information and search and retrieve data by workset or incident. Use this critical tool for evaluating all logged recommendations to determine what resources should be sent (or should have been sent) and what the final outcomes were. Users can easily pull up historical information for individual incidents and evaluate the suggestions.
RESOURCE INFORMATION
Updates to this section include the ability to see on a single screen much more detail about any resource. This includes viewing data about crew, unit, events and additional responses, as well as the stop list, map and a log of resources.
To learn more about how Logis IDS can support your agency, or if you're a current customer and have questions, please reach out.
Schedule a Personalized Demo Today