7 Must-Haves to Ease the Pain of EMS Billing
There's a saying that "the job isn't finished until the paperwork is done." That's especially true for EMS and other healthcare organizations when it comes to navigating a convoluted and complex billing process. Get it wrong, and you may not see your hard-earned revenue for many months; in some cases, you may never see it at all.
The Journal of Emergency Medicine reported that in 2017, commissioners in Palm Beach County, Florida approved writing off $11.8 million in "uncollectable emergency transport patient accounts." The city of Berkeley, California, reported a five-year average of uncollected ambulance fees amounting to $2.6 million per year.
Can you afford that type of financial hit? Of course not. The real question is, what can you do about it? As with many business problems today, the solution lies in smarter technology. Billing software solutions for EMS and healthcare organizations continue to come on to the market promising to make sure you get paid for everything you do. But beware: Not all are created equal.
Before you commit to a billing software solution, be sure it will meet your needs. Here are seven things you should demand in the one you ultimately choose.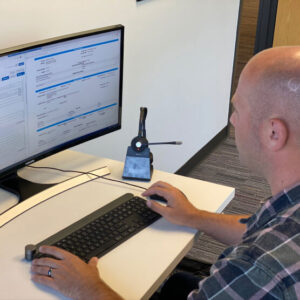 1. Automated Workflow
The highest hurdle–and the space where your team spends most of its time–is on the front end of the billing workflow. Getting all the information properly populated is often a manual process that requires your front-end team to toggle between different systems. The more times your staff must touch a claim, the greater the human resource expense and the increased chance of errors that could result in problems collecting payment.
Knowing this, we created Logis Billing to eliminate the need to chase after needed information with real-time integration that ensures correctly populated invoices. Information from a 911 call or schedule request goes directly into billing and is combined with demographics and call specifics.
Look for a billing solution that automatically configures tasks, defines workflow steps, sets up queues and schedule rules, and uploads allowables. Level of service should be auto-populated and determined by medications/procedures within the electronic patient care record (ePCR) at the time of service. The result: a streamlined workflow from claims creation to pre-bill to claim submission in a single task that also allows your team to work on multiple billing periods at a time.
Lastly, payment posting should also be automated through your clearinghouse, so claims are submitted in real time without waiting to batch them up. Freeing up staff from laborious manual steps like these allows them to focus on more value-add activities, like following up on claims that have been denied or paid incorrectly.
2. Verification and Validation
Verification and validation in the front-end process is an area that consumes a huge amount of staff resources. Your billing software should enable rapid geo-validating and automatic integration to find the patient's insurance, something not always easy to obtain upfront. The integration between Logis Billing and Solutions Group enables demographics and insurance verification along with deductible monitoring directly from the automated workflow.
Your software should automate the integration of ePCRs and alert you to any differences or discrepancies. Once detected, it's easy for your staff to make corrections quickly by choosing the options prominently displayed in front of them. This not only reduces dat
a entry time but also dramatically reduces the number of errors like undercoding or overcoding made during claims processing that can cause denials and increase your risk of an audit.
3. Visibility and Tracking
If you can't see it, you can't manage it. Without clear visibility into your billing process, it's impossible to detect and correct problems that may be slowing your reimbursements. Reports offered by some EMS billing software vendors must be manipulated and run multiple different ways and, in the end, may still not provide you with the type of information you need.
When choosing a vendor, look for a customer service or implementation team that will work with you to create a report(s) that pulls in all your needed information from multiple sources. For example, maybe your staff wants to customize your aging report and pull data up by gross charges, contractual allowances, net charges, adjustments and payments. Having this information at your fingertips is extremely valuable for senior executives who need to conduct a high-level review of your accounts. Customized reports make it easy to quickly see where your revenue is sitting in receivable buckets so you can better focus your collection efforts.
The Schedule Rules feature built into Logis Billing automatically moves claims from one workflow to the next, without requiring manual intervention. This enables real-time tracking of your claims payments and provides alerts for late payments, freeing your team up to focus on the exceptions to the rules.
 4. Flexibility and Customization
There's nothing worse than purchasing a rigid, one-size-fits-all billing solution that requires you to change your entire workflow. That type of solution rarely yields the efficiencies you're looking for since it wasn't created with your organization's unique needs in mind.
Not only can you configure Logis Billing to deliver the specific reports you need, you set up the rules, processes and views so your workflow matches the way you actually operate. Logis provides you with the tools to build your billing system in a way that works for your business; and of course we're there if you need more support.
5. Third-Party Systems Integration
No EMS agency is an island; so much of what you do requires interfacing with third-party databases to properly complete the billing process. That makes seamless integration a must-have.
Logis Billing integrates easily with ePCRs like Health EMS and ImageTrend by receiving NEMSIS-compliant XML files via Web Service with PDF PCR Report. It also connects with the Waystar claims clearinghouse and Solutions Group for demographics and other information. Whatever solution you opt for should allow the same simple integration and interoperability for the third parties you work with.
The benefits of easy integration include the ability to pull in signatures from the same task page and access patient care reports that change as the patient changes without having to go back to a website to reenter the information.
 6. Ongoing Training and Support
The journey doesn't end once you implement a billing solution; there should be ongoing training and support to ensure that you get the most out of the system. Ask any vendors you're considering about initial and ongoing training and whether making changes to your system will incur extra charges. If your team is trained well, you should find that many, if not all, new configurations can be handled in-house, allowing you to continually evolve your billing solutions as your business changes, too.
It's worth mentioning that at Logis we continually offer upgrades and updates (the healthcare billing landscape is always changing, after all) that require little to no downtime. Our in-house development team means we have maximum control over the program's development, including full native support for multiple hot stand-by environments.
7. Robust ROI
We can hear the big question likely running through your mind at this point: What's this going to cost me? That's a valid question when you're purchasing a billing software platform. However, a more valid question might be, what value do I get from it? An automated, integrated, efficient solution ensures that you submit clean claims faster, minimizing billing errors and denials. This accelerates your revenue cycle with faster collections and less bad debt, greatly enhancing your cash position.
The efficiency you gain by automating the process with Logis Billing also enables you to repurpose staff to other activities, which will minimize the need for additional hires and lower your overhead costs. We believe it's worth considering these and the other benefits discussed in this post as you consider which EMS billing software is the best fit for you and your organization.
 If you'd like to talk about how Logis Billing can help streamline your billing operation and accelerate your revenue cycle, we'd love to start a conversation.
Schedule a Personalized Demo Today